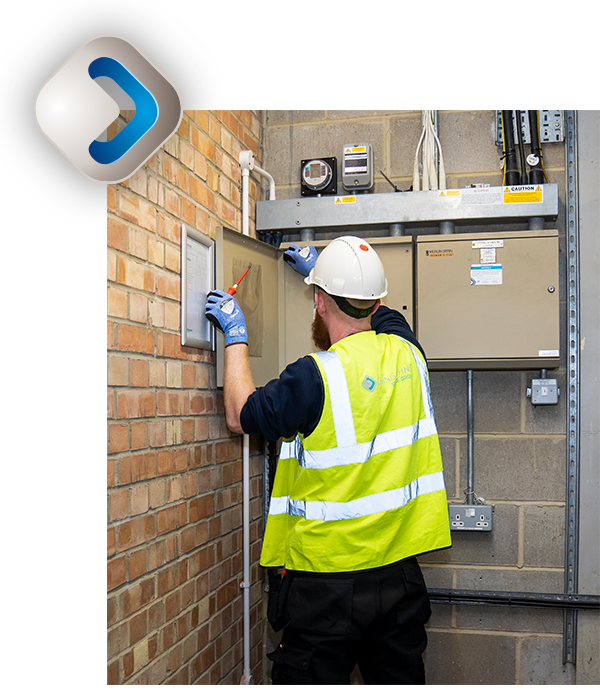 We have been providing Electrical & Security services for a wide range of clients for 50 years. The company has grown from a small family run company to an established highly respected SME. Our client base ranges from blue chip companies such as a premier league football club, government institutions such as education facilities, ranging from Universities, Schools, NHS Hospitals and local authorities across London, as well as working with numerous commercial and private businesses.
Dennis Johns have been appointed to carry out the upgrade of the mains and sub mains electrical supply to the Fogg Building, these works have been carried out in a speedy and efficient manner, with minimal disruption to the building users and to a good quality.
Following the replacement of the distribution boards in the BSU of the Bancroft building, I would just like to pass on my thanks to DJs and the team for works carried out. Communication was excellent as always and due to the sensitive nature of the works we couldn't have hoped for a better outcome. Works were completed on time and to programme with minimal disruption to the stakeholders.
As Authorising Engineer at Queen Mary University, a multi faceted medical research and teaching environment, I have worked very closely with Dennis Johns Service Group for three years now and have seen them develop from a very reliable and good electrical contractor to one that now 'owns', fully understands and manages all aspects of the electrical infrastructure from high voltage to replacing a double socket.
Dennis John Service Group has worked closely with us at Hendry Construction for over 10 years on may projects ranging from a £1000 to £1.5 million. These projects have varied from office fit outs in central London, residential extensions, works in NHS Hospital Trusts (North Middlesex Hospital, Northwick Park Hospital, Royal Free Hospital), along with private Hospitals (Chaucer Hospital, Mount Alvernia Hospital, Blackheath Hospital) and private Laboratories in Central London (Wimpole Street, Whitfield Street, Euston Road). Their works have always been carried out to a compliant and very professional manner, on time and within budget, leaving our client very happy. Due to our long history and trust built over the years I would highly recommend Dennis Johns Service Group.
Due to the critical nature of the works we carry out on various hospital projects and the need to maintain patient services throughout the duration of the construction phase, good communication, punctuality, quality of workmanship and attention to detail are essential traits required of all members of the team. These characteristics are always at the forefront when working with Dennis Johns. The co-operation and collaboration of the onsite team bring to the table is greatly appreciated and the resulting atmosphere makes projects an enjoyable, yet professional experience for everyone involved. We look forward to working with Dennis Johns Service Group on the works we already have planned for this year.
Dennis Johns Service Group are an excellent electrical contractor with superb customer service and service delivery. They have supported us on all electrical works from power & lighting for office fit outs to installation of critical/essential electrical assets for our clients. They have the skill set to work in both the public and private sectors. I would highly recommend using Dennis Johns Service Group.
Dennis Johns was contracted to the Public Space Surveillance team at the London Borough of Hackney while I was the Manager there 2016 to 2019. I found them to be knowledgeable and professional, always getting it right the first time on time. But as important if not more so, was their experience in dealing with the sudden and unexpected changes of priority of the borough in response to major incidents such a, serious youth and gang violence escalation. They were always willing to stay late, get in early and change tact to facilitate the urgent needs of the Hackney Borough
Dennis Johns Service Group is contracted to London Borough of Hackney to provide CCTV network maintenance and installation services covering various business areas including; Public Space, Housing, Corporate buildings and Parks. They are responsive and hold excellent technical knowledge. We rely on them in dealing with fast emerging situations 24/7 365 days a year. They are efficient with project delivery and work well with us on changes. I find their staff friendly, helpful and engaging.
We welcome any enquiries and will be on hand to help.
Get in touch now for more information on our services.